Microwave - and other forms of electromagnetic - radiation are major (but conveniently disregarded, ignored, and overlooked) factors in many modern unexplained disease states. Insomnia, anxiety, vision problems, swollen lymph, headaches, extreme thirst, night sweats, fatigue, memory and concentration problems, muscle pain, weakened immunity, allergies, heart problems, and intestinal disturbances are all symptoms found in a disease process originally described in the 1970s as Microwave Sickness.
Friday, December 16, 2011
Doug Benz for The New York Times






















As Doctors Use More Devices, Potential for Distraction Grows
Published: December 14, 2011


But like many cures, this solution has come with an unintended side effect: doctors and nurses can be focused on the screen and not the patient, even during moments of critical care. And they are not always doing work; examples include a neurosurgeon making personal calls during an operation, a nurse checking airfares during surgery and a poll showing that half of technicians running bypass machines had admitted texting during a procedure.
Hospitals and doctors' offices, hoping to curb medical error, have invested heavily to put computers, smartphones and other devices into the hands of medical staff for instant access to patient data, drug information and case studies.
This phenomenon has set off an intensifying discussion at hospitals and
medical schools
about a problem perhaps best described as "distracted doctoring." In response, some hospitals have begun limiting the use of devices in critical settings, while schools have started reminding medical students to focus on patients instead of gadgets, even as the students are being given more devices.
"You walk around the hospital, and what you see is not funny," said Dr. Peter J. Papadakos, an anesthesiologist and director of critical care at the University of Rochester Medical Center in upstate New York, who added that he had seen nurses, doctors and other staff members glued to their phones, computers and iPads.
"You justify carrying devices around the hospital to do medical records," he said. "But you can surf the Internet or do Facebook, and sometimes, for whatever reason, Facebook is more tempting."
"My gut feeling is lives are in danger," said Dr. Papadakos, who recently published an article on "electronic distraction" in
Anesthesiology News
, a journal. "We're not educating people about the problem, and it's getting worse."
Research on the subject is beginning to emerge. A peer-reviewed survey of 439 medical technicians published this year in
Perfusion
, a journal about cardio-pulmonary bypass surgery, found that 55 percent of technicians who monitor bypass machines acknowledged to researchers that they had talked on cellphones during heart surgery. Half said they had texted while in surgery.
About 40 percent said they believed talking on the phone during surgery to be "always an unsafe practice." About half said the same about texting. The study's authors concluded, "Such distractions have the potential to be disastrous."
Doctors and medical professionals have always faced interruptions from beepers and phones, and multitasking is simply a fact of life for many medical jobs. What has changed, doctors say, especially younger ones, is that they face increasing pressure to interact with their devices.
The pressure stems from a mantra of modern medicine that patient care must be "data driven," and informed by the latest, instantly accessible information. Annual investment in gadgets and other technology by hospitals and doctors has soared into the billions of dollars.
By many accounts, the technology has helped reduce medical error by, for example, providing instant access to patient data or prescription details.
Dr. Peter W. Carmel, president of the American Medical Association, a physicians group, said technology "offers great potential in health care," but he added that doctors' first priority should be with the patient.
Indeed, doctors and nurses face growing pressures to listen carefully to patients, provide customer service and show empathy as they look for subtle cues that might explain an illness.
"The computer has become a good place to get a result, communicate with other people," said Abraham Verghese, a doctor and professor at the Stanford University Medical Center and a best-selling medical writer. "In the interest of preventing medical error, it's a good friend."
At the same time, he said, the wealth of data on the screen — what he frequently refers to as the "iPatient" — gets all the attention.
"The iPatient is getting wonderful care across America," Dr. Verghese said. "The real patient wonders, 'Where is everybody?' "
It is hard to know the precise impact that distracted doctoring has on patient care, because it is hard to measure. But at least one example puts the risks in sharp relief.
Scott J. Eldredge, a
medical malpractice
lawyer in Denver, recently represented a patient who was left partly paralyzed after surgery. The neurosurgeon was distracted during the operation, using a wireless headset to talk on his cellphone, Mr. Eldredge said.
"He was making personal calls," Mr. Eldredge said, at least 10 of them to family and business associates, according to phone records. His client's case was settled before a lawsuit was filed so there are no court records, like the name of the patient, doctor or hospital involved. Mr. Eldredge, citing the agreement, declined to provide further details.
Others describe multitasking as relatively commonplace.
"I've seen texting among people I'm supervising in the O.R.," said Dr. Stephen Luczycki, an anesthesiologist and medical director in one of the surgical intensive care units at Yale-New Haven Hospital. He said he had also seen young anesthesiologists using the operating room computer during surgery.
"It is not, unfortunately, uncommon to see them doing any number of things with that computer beyond patient care," Dr. Luczycki said, including checking e-mail and studying or entering logs on a separate case. He said that when he was in training, he was admonished to not even study a textbook in surgery, so he could focus on the rhythm and subtleties of the procedures.
When he uses computers in the intensive care unit, he regularly sees what his colleagues were doing before him.
"Amazon, Gmail, I've seen all sorts of shopping, I've seen eBay," he said. "You name it, I've seen it."
Dr. Luczycki is also a huge fan of technology's positive impact on medicine. So, too, is Dio Sumagaysay, administrative director of 24 operating rooms at Oregon Health and Science University hospitals, even though he has heard about or witnessed instances of people using devices during critical moments.
In early 2010, he heard several complaints that doctors or nurses were using their phones to check or send e-mails even though they were part of a team intubating a patient before surgery.
Mr. Sumagaysay established a policy to make operating rooms "quiet zones," banning any activity that was not focused on patient care. He later had to reprimand a nurse he saw checking airline prices using an operating room computer during a spinal operation.
Medical professionals say young doctors can be particularly susceptible to distraction because they have grown up being constantly connected.
At Stanford Medical School, for example, all students now get iPads, which they use to read medical texts and carry with them in hospitals but are also admonished not let get in the way of their work.
"Devices have a great capacity to reduce risk," Dr. Charles G. Prober, senior associate dean for medical education at the school, said. "But the last thing we want to see, and what is happening in some cases now, is the computer coming between the patient and his doctor."
http://www.nytimes.com/2011/12/15/health/as-doctors-use-more-devices-potential-for-distraction-grows.html?_r=1&hp=&pagewanted=al
l
Brain tumour increase in Denmark by 40% between 2001-2010
Tumours in brain and nervous system are increasing in Denmark according to the latest report from Danish Cancer Registry. The increase is seen both in men and women.
Among men the number of brain tumours have increased by 40% between 2001 and 2010 (per 100 000 inhabitants, age standardised) and among women by 29%. In real numbers it is 268 more cases per year among men and 227 among women that are diagnosed with a tumour in brain or central nervous system.
In Sweden
the trend is stable and no increase is reported in the
repor
t from
Swedish Brain Tumour Registry
.
However the Swedish Brain Tumour Registry is known to be suffering from underreporting
, which I wrote about some weeks ago. Still the Swedish brain tumour flat trend is promoted by some experts and scientists as "evidence" that
mobile phones
don't increase brain tumour risks.
The Swedish trend
was used by the
CEFALO scientists
, that claimed that they only looked at the Swedish data because they "saw the highest risk in Sweden" for brain tumours in their own study on children's and adolescent's brain tumour risk from mobile phone use. Based on primarily the Swedish trend, and not their own obtained data, they claimed the results was "reassuring".
Also in their editorial
, accompanying the
last updated version
of the scandalous "world's-largest-brain-tumour-study" (the study excluded the 200 000 of the heaviest users and instead put them as unexposed in the control group),
Anders Ahlbom
and
Maria Feychting
from the
Karolinska Institute
put forward the Swedish brain tumour trend, and interestingly not the Danish trends. Anders Ahlbom and Maria Feychting both are members of
ICNIRP
, that has recommended today's limits for mobile telephony, that would have to be lowered if a brain tumour risk was admitted, with huge negative impacts for the industry.
Text: Mona Nilsson
Om du kommenterar eller uttrycker en åsikt i ämnet är du personligen ansvarig för att det du skriver eller länkar till inte strider mot svensk lag. Anmäl upphovsrättsintrång via
kontaktformuläret
.
About Mona Nilsson
Mona Nilsson is a Swedish investigating journalist and author of two books on mobile phone and health risks. Her most recent book, Mobile phones and health (Mobiltelefonins hälsorisker), was published in 2010. In May 2011, she uncovered that one of the world-leading experts on mobile phone health risks, Anders Ahlbom, was a board member of a lobbying firm, Gunnar Ahlbom AB and that he had failed to report this conflict of interest to the IARC. She also revealed that the brother of Anders Ahlbom, had been a lobbyist in Brussels for the telecommunications industry for many years, an aspect that Anders Ahlbom also had failed to declare along the years.
http://newsvoice.se/2011/12/15/brain-tumour-increase-in-denmark-by-40-between-2001-2010/
Wednesday, December 14, 2011
Frightened by the prospect of a large scale public backlash against their stupid meter program, the cowards at Pacific Grinch and Ebeneezer have cut off power to at least 3 people in California who had been sickened by 'smart' meter radiation and had acted reasonably to have a safe analog meter replaced on their homes.
[UPDATE: As of 8pm, Dec. 13, a fourth person has been cut off by PG&E.]
Although PG&E has a policy of not disconnecting anyone during the holidays, they made a special exception for these families. Apparently PG&E feels it is more appropriate to force people to shiver in the cold and stumble around in the dark than simply replace an analog meter on their home (which of course they have millions of).
Seventy-five year old Peggy Lindsay, who
spoke about the 'smart' meter's toll on her health
and returned her meter last Wednesday to PG&E- is one of those threatened with disconnection. We're worried about her safety, living alone, threatened with being left in the cold and dark in December. So far, none of our 'elected leaders' have intervened on her behalf. (an earlier version of this article mistakenly reported that Peggy has already been cut off.)
Monise and Peter Sheehan made every effort to get PG&E to work with them to eliminate the terrible ringing that had plagued their house ever since the meter went in. PG&E refused to fix the problem, and the Sheehans took reasonable action to replace their meter with an accurate analog model. They got home last night and their home was dark and cold. They were interviewed by local station
KION news
last night.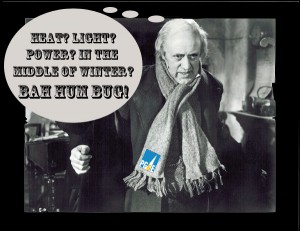 We need to be clear about this situation. The utilities are acting like a criminal syndicate, switching off power to those suffering from their unsafe and poorly executed smart meter 'deployment.' They are getting increasingly nervous- and they should be.
What do we do? The utilities are expecting that people will back down if they switch the power off. They are expecting that people care more about their electricity and their gadgets than their ability to sleep at night or live without headaches and tinnitus. Having spoken to thousands of people who are suffering from these meters, I'm going to go out on a limb here and say- THEY ARE WRONG. It is no time to back down and allow the noose of pulsed EMF to slip silently back over our heads.
If you are lucky enough to have had the foresight to lock up your analog meter before they came around, you might be reading these developments and thinking to your self, "well these people removed the meter- that's why PG&E cut them off. Surely I'm safe with my locks and chains or my sign- I even called the opt out line."
I'm sorry to burst your bubble, but they want to switch off your electricity as wellif you refuse to allow them to install a 'smart' meter- regardless of what you are reading about a possible opt out. PG&E admits so themselves in a recent filing:
"For

customers who continue to refuse to allow access to the meter, PG&E will have no choice but to

temporarily discontinue service in accordance with existing Rules."
If you still have your analog meter, make sure it is locked up and begin to make plans to live off the grid, or generate power locally with your neighbors. It's not as hard as you think if you are willing to make a few lifestyle adjustments.
Convince your local authority- or perhaps general assembly- to take back the power and establish a municipal utility. For now (if you are able- at least for part of the day), turn off your power at the breaker in solidarity with those being plunged into darkness. Have a romantic candlelit dinner. You may even feel a whole lot better in your home.
If you have a smart meter, no better time to
have it removed
. Since the utility is calling the police when people try to return their equipment to their offices, why not leave it with your elected officials- they have allowed this situation to happen- they can deal with the mess they've created. And don't forget to call the media.
And no matter what your electrical situation is, now is the time to unite together and take care of each other- take care of your community- making sure that your elderly neighbor has enough wood and candles- perhaps a propane fridge- to make it through safely. Our government/ utility is failing pretty miserably in this regard.
This threat is not isolated to California. In the last few days, we've heard reports that more than 200 families in Minnesota who refused wireless water meters have been cut off. Other scattered reports of disconnections from around the US have also been coming in to StopSmartMeters.Org
Let's be clear about what's going on here. This is an attack by PG&E and other utilities- who are owned by the 1% on Wall Street like Goldman Sachs, against the 99% whose exorbitant utility bills lead to investment returns of more than 11% in some cases. This is when you can't even get 1% from a savings account and many homes are being foreclosed on.
The rich are getting richer and the rest of us are left choosing between a headache and a blackout. Welcome to 2011.